Donate to FAYCO
Our Motto: "Helping Others Help Themselves."
Skip to Content
Your browser must have Java installed and cookies enabled.
Web Accessibility for the disabled has been evaluated by WebAIM.org's WAVE Tool and Color Contrast Checker.
Industrial Work Programs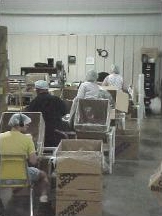 Through contracts with local industries, FAYCO Enterprises performs many services for a number of items and products. Custom product packaging is a typical service.

Manufacturers are afforded a valuable annex to their plants to help offset the cost of their contracts.

FAYCO employs people you might not hire; to do work that you have difficulty staffing; to deliver high quality levels you could not achieve. And, we can do this work at very competitive costs.

Skill development centers, such as our workshops in Vandalia and Hillsboro, offer jobs at wages that are based on the skill-set of the person doing the job. The worker protection legislation known as Section 14(c) of the Fair Labor Standards Act ensures access to these types of jobs for those individuals that qualify.

There is a video on YouTube (embedded below) that does an excellent job of explaining how we pay the people we work with in our agency: "Putting Success Within Reach - Commensurate Wage Illustration 2012" - Explaining the fair pay practices of community rehabilitation programs. This video is very well produced and we encourage everyone - individuals, family, the businesses we work with, and the general public - to view it.





If your business or manufacturing center would be interested in this type of program, please feel free to contact us.